2024 Creative Spark Newsletter, Annual Subscription - FOUNDING MEMBERS
Regular price
Sale price
$55.00 USD
Unit price
per
Sale
Sold out
Share
A year round companion for exploring and cultivating your creative practice!
As a thank you for being a founding member, your lifetime price for the CSN subscription is locked in at $55.
Let's make 2024 the year we embrace, explore, and cultivate our creativity! The Creative Spark Newsletter is designed to help encourage, inspire, and motivate you to create in the pages of your sketchbook (or outside of them!) all year round.
Through carefully curated prompts, thoughtful ideas, a flexible & loose schedule, and gentle encouragement, we'll fuel our creative practice and see where our curiosity and interests take us. This will all happen via email so you can join from anywhere in the world! You don't have to sign up for another platform or be active on social media (unless you want to be :))
I am passionate about encouraging creativity and adding more of it into our lives in a way that's easy and fun! I hope you'll join me in making 2024 our most creative year yet!
THIS NEWSLETTER IS FOR:
Anyone who has an interest in the arts and creating!
Those of us who may be stuck in a creative rut
Those of us who may create consistently and are open to new inspiration
Beginners who have picked up their first sketchbook (or want to!) to seasoned hobbyists to creative professionals and everyone in between!
Teens and adults
Anyone who is scared of beginning or revisiting their creative journeys
Everyone who finds joy in creating, working with our hands, minds, and hearts, making ideas tangible, and is OK with getting a little messy sometimes!
YOU'LL RECEIVE:
Emails with prompts along with ideas, inspiration, and examples to help you interpret the prompts in your own way and spark ideas
Check-in emails to keep you motivated and exercises to help get the creativity flowing
Examples from our community to keep you connected and inspired
Access to our community photo gallery where your work will be featured and you can see what others are creating
Access to the PDF Library with free printables you can download and use
Access to the Resource Library where you can find a collection of videos, posts, podcasts, and more on a wide range of topics and techniques
A snail mail and holiday card swap with our community (optional)
I'll also be going on this journey with you! You'll be able to email me to share your ideas, work through prompts, and brainstorm if you'd like.
Forever access to all emails and prompts, organized in a library for you to easily revisit when needed.
A few other little surprises :)
WHAT SUPPLIES WILL YOU NEED?
I love the idea of using what we have and looking at them in a new light. You don't need to buy new supplies for this (unless you want to) and if you do need to pick up a few things, there are very affordable options. You'll receive an email with recommendations of what to use and some of my favorite supplies but all you really need is:
A surface to create on. I suggest using a sketchbook to keep everything in one place, it's easy to carry, and it's really fun to flip through when you're done! However you can also use scratch paper bound into a book, paper on a clipboard, a canvas, etc.
Tools to make markings with such as pens, markers, paint brushes, and mediums such as acrylic paint, watercolor, inks, etc.
SCHEDULE
The schedule is based on the different levels and flow of energy we have throughout the year. We'll be mixing more intensive 5 week series with less intensive months in between to keep things sustainable while still gently encouraging a continuous flow of creativity.
Jan 2024: Prep email to help us get ready
Mid-Jan to Feb: 5 Week Creative Kickstart (1 prompt + 1 check-in email per week for 5 continuous weeks)
March, April, May, June: 2 prompts + 2 check-in emails per month (1 email per week)
July-Aug: 5 Week Summer Un-Slump (1 prompt + 1 check-in email per week for 5 continuous weeks)
Sept, Oct, Nov, Dec: 2 prompts + 2 check-in emails per month
Dec: Final wrap up email     
REFER A FRIEND
Refer a friend so they can receive $5 off their subscription! Please share this link with them and have them enter your name: https://atiliay.com/products/2024-creative-spark-newsletter-annual-subscription
GIFT THIS SUBSCRIPTION
This newsletter is a unique, thoughtful, and fun gift that truly keeps on giving for an entire year! If you'd like to gift this subscription to a loved one, please select the option in the drop down menu. You will be emailed a gift certificate that can be printed out (pair it with a new sketchbook!) so you have something physical to give or you can email it to your recipient.
SUPPORTING CREATIVITY IN OUR CLASSROOMS:
5% of proceeds will be used to help fund a classroom and support arts education through DonorsChoose.org. I will let you know all about the teacher and kids we are helping once the donation has been made!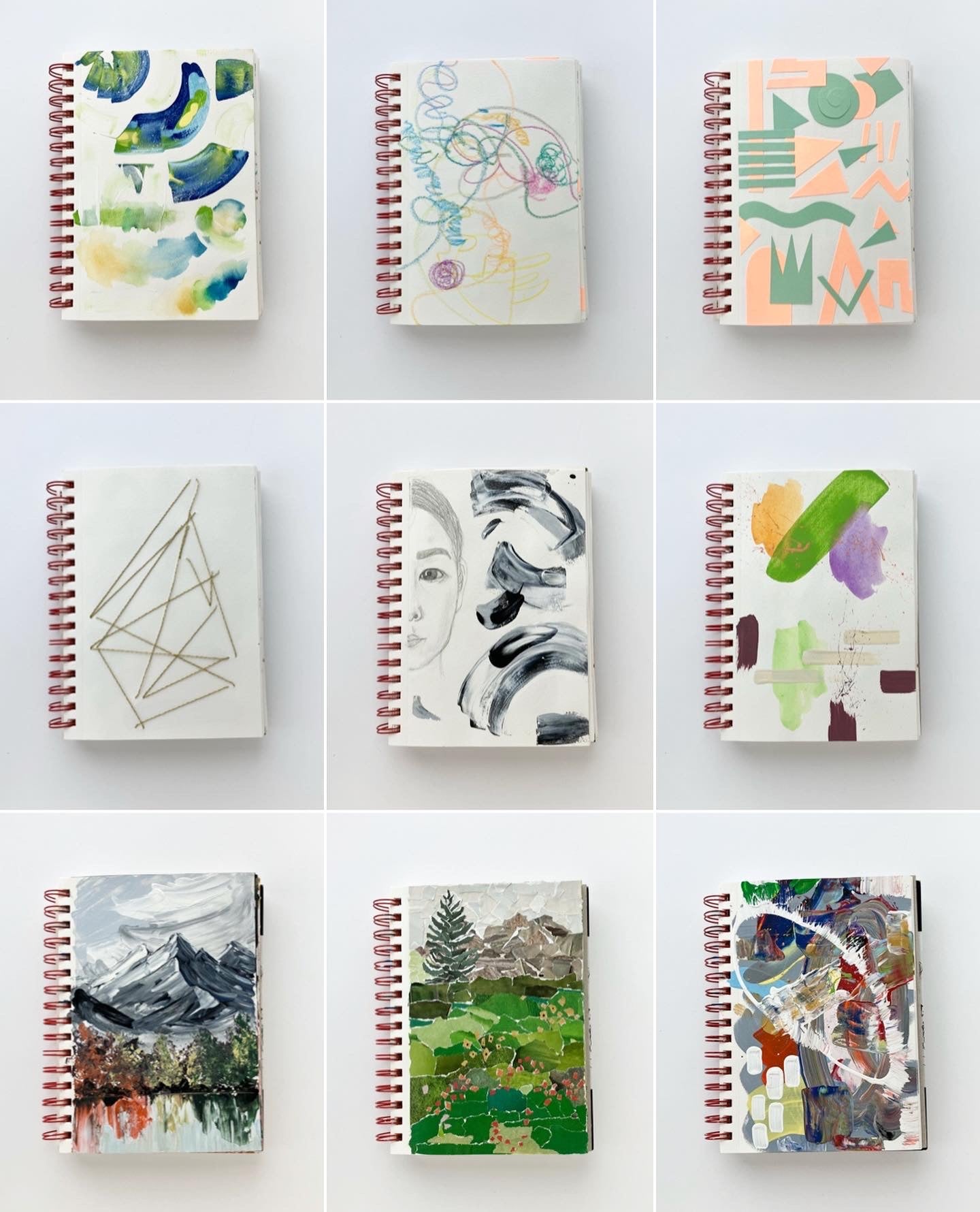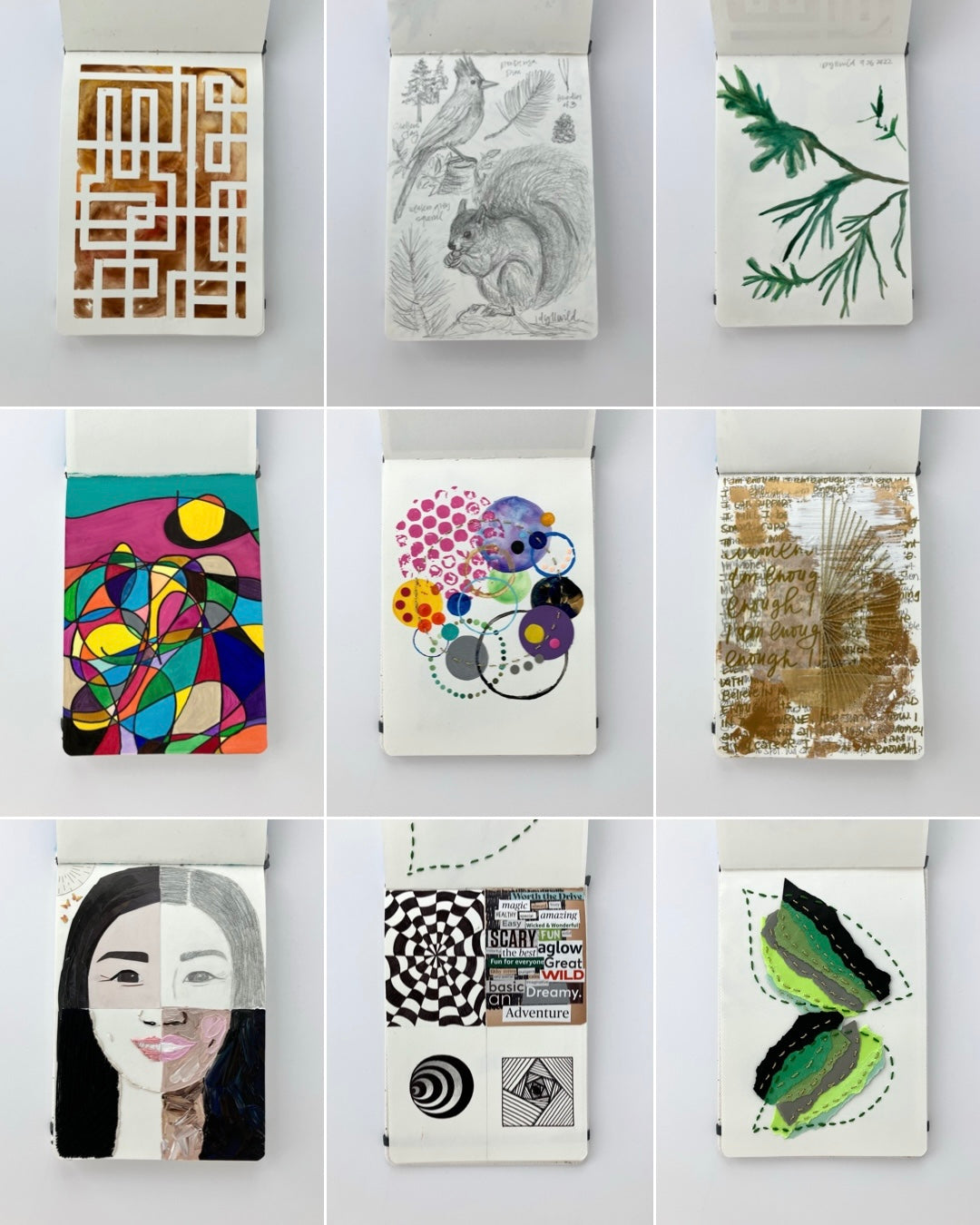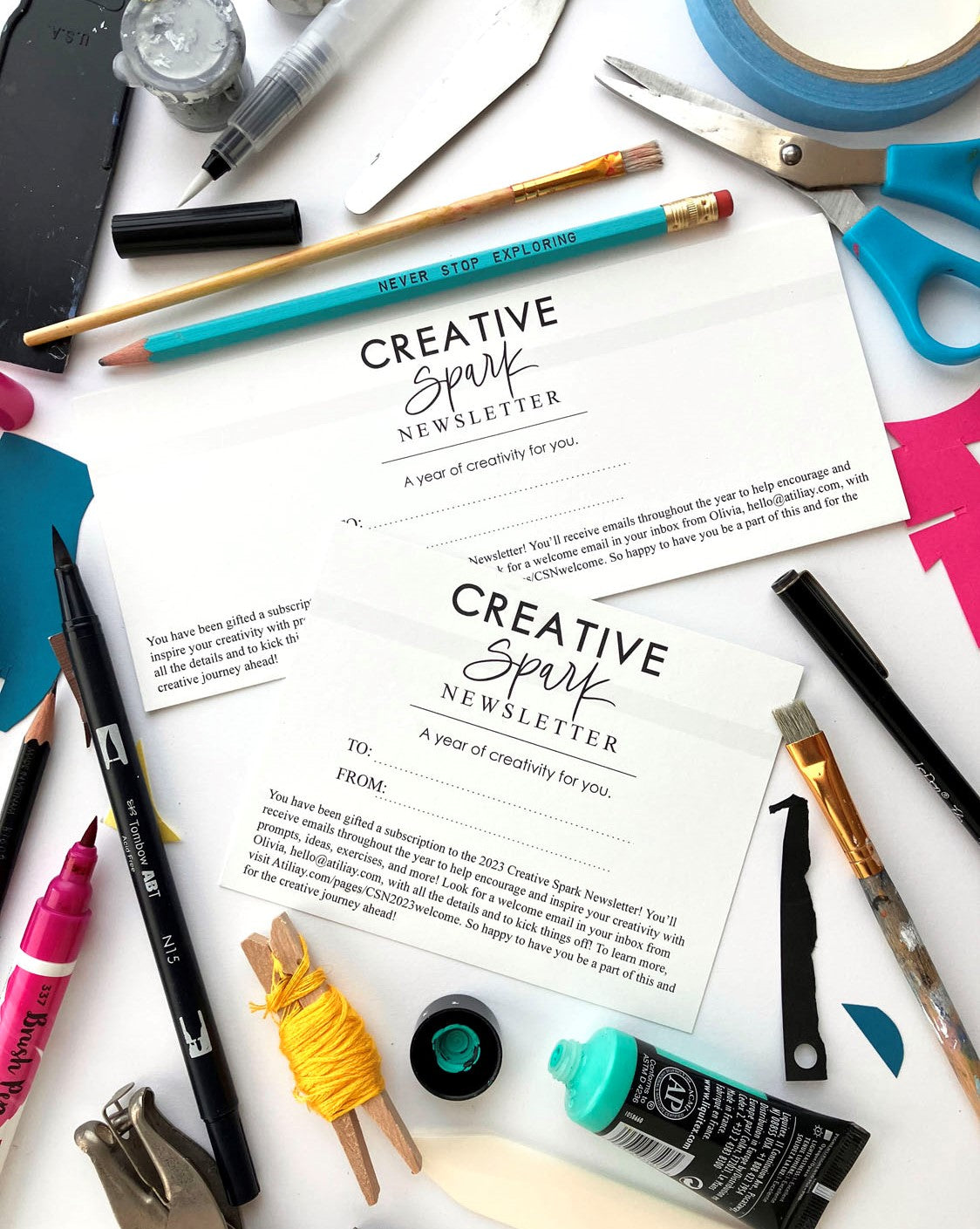 Shipping

Orders are packaged with care and typically ship from Southern California within 1-3 business days. Orders over $65 ship for free within the US! Please view all shipping policies here.